Glass Shop in Hollister, CA
Proudly serving the Hollister, CA community, Hollister Gold Coast Glass, LLC provides high-caliber glass replacement and repair solutions to both residential and commercial customers. Every project we work on gets our undivided attention and a turnkey solution that showcases our exceptional workmanship. When you need glass services, contact our glass shop for a free quote!
Custom Glass Replacement Services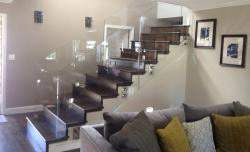 We're surrounded by glass in our everyday lives—from windows and doors, to shower enclosures and mirrors. When these fixtures become damaged and the glass is compromised, it takes a true professional to deliver restorative results. Hollister Gold Coast Glass, LLC is the company to call for exceptional repair and glass replacement in Hollister, CA. We're experienced in assessing and resolving glass issues of any severity—from the smallest chips and cracks, to entire pane replacements for large commercial glass. We give every job the unique attention it deserves, guaranteeing a solution that's durable, sound and beautiful.
Customers choose us for our versatility and superior workmanship. Not only can we facilitate basic door and window repairs and replacements quickly and with exceptional accuracy, our glass shop in Hollister, CA can also custom-cut glass for any installation. Whether you need a unique mirror in your home fixed or new glass for a custom display case, let us deliver it to you. We strive to deliver glass that's ultimately personalized to your needs, in any situation. And, with full customization, fitting and installation capabilities, we're the only contractor you need to trust for complete glass services! Let us take a look at your panes today and provide the insight and services needed to restore the integrity of your glass, no matter the application.
Contact Our Experts Today

We give every project the utmost attention & always guarantee workmanship of the highest caliber. Look to us for 100% satisfaction!
We're a licensed glass shop for the entire State of California & employ a team that's extremely skilled in the services they provide.
We're members of the Better Business Bureau (BBB) & National Federation of Independent Business (NFIB).
Our capabilities include custom-cut glass, so you're always getting a tailored solution to your unique glass replacement and repair needs.
We offer free quotes on all of our glass services
and strive to maintain fair and honest pricing.
Get the Best in Glass Services
Don't settle for a glass shop that's "good enough." Get complete glass replacement and repair services, specifically tailored to your situation by contacting our team for a free estimate.
Proudly offering the best glass repair and glass replacement to the following areas:
Hollister, CA
Monterey, CA
Boronda, CA
Blanco, CA
Marina, CA
Neponset, CA
Oak Hills, CA
Prunedale, CA